sunday, june 25 , 2000
Rescued a nice little cat on Friday. She was wandering around Bassettville. Her pretty white face was smudged and dusty. She was thin as an earthworm.
I call her Sugarlips.
Sugarlips needs a home. Sadly, she cannot stay here, not with seven cats here already. I would need to move out to the tool shed and live.
Which has possibilities.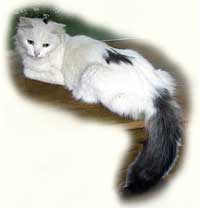 Sugarlips is about six months old, the stage I call kitcat because it's halfway between kitten and cat. Think of her as a little 13-year-old girl.
Sugarlips has beautiful eyes the color of goldpieces. She is mostly white, with two tabby dots on top of her head, a tabby tail, and tar-heels. She appears to have either Angora or Maine Coon parentage. Her snowy fur ~ although not really that of a longhaired breed ~ is very silky. She has a magnificent bushy t ail and dainty pointy feet, like dibbles.
She is very affectionate, a lap cat extraordinaire. Also highly intelligent with refined tastes (cringes at the F-word). She is extremely well behaved, with meticulous dining and litterbox habits.
Sugarlips needs a nice mom and/or dad who will treat her like the little lost Anastasia that she is ~ somebody who will give her ear rubs and laptime. Someone who will speak in honeyed tones and bestow little snacks out of a can, provide a special soft pillow, and brush her coat now and then.