Thursday, August 31, 2000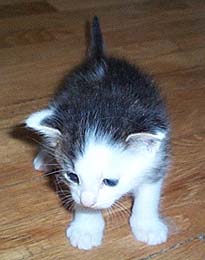 Kitten Update
The kittens are exactly four weeks old today. Over the course of four weeks they have transformed from nappy grubs into sketched-with-great-detail young cats with distinctly separate personalities. They are chummy, erratically mischievous, interested in everything, fearless.
Almost fearless. The other day I was taping a strip of cardboard to the bottom of the door, and I pulled a long strip of packing tape off its spool. Rrrrrrrrrrrrrrrrriiip ! They were all so startled they toppled right over.
And this morning through the door, I heard Nosegay cry "News! Newts!" So I stepped in to banish the marauding newts.
There were no newts.
Just a sow bug milling around the baseboard.
Photo: Nosegay, the Boy Who Cried Newts and thus has no credibility

More about Nosegay...