thursday, september 21, 2000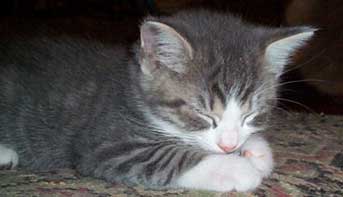 "The cat sees through shut lids."

~ English Saying
It's late afternoon in the Kitten Room. We have been playing hard, and now we are sleepy. The flannel mice and bean bag hippo are scattered like purple, yellow, and green litter across the sunlit polished oak floor.
Mom Cat is snoozing on the library table, her snowy fur glows peach in the sunset.
Little Charlie has dozed on the floor pillow in the midst of examining his paws, like a scholar asleep over his books. His head has crashed down between his beloved mitts.
Sleepiness steals up on kittens like this. They never know what hits them.
Snooples and Chessie are braided together in the wicker cat bed, their angel faces cheek to cheek.
Nosegay is on his back, unconscious, cradled in my hands. His little golf-ball head is in one palm, his plump body in the other. His arms and legs splay, and his gray-and-white Viola face is pinched in the sweet sleep of the perfectly safe.
A horizontal silvery ray reaches straight out of the sunset and beams through thousands of leaves on the big Norway maple outside the window. Now the white paint on the eastern wall dances with needly patterns of leaf shadows refracted and shattered by this trick of the light.
These sleeping kittens and the ghostly patterns lacing and flickering on the wall remind me of the other rare times when I was wise enough to sit still and just watch the light and the sleeping animals around me. Moments in the farmhouse among my old cat friends long ago when the whole east wall would burst into dancing dragonfly wings. Times in the barn with my horse's magnificent head lowered in repose and my beagle's muzzle resting on my knee, when the only sound was the creaking of the ancient timbers, and dust motes danced in light vortexes spinning down between the cracks between the boards...
This moment of sleeping creatures and leaf shadows is another one that I will think back to like a misplaced loved one. Time could stop right here, in the Kitten room, and this perfect bubble of peace could go on forever without breaking. That would be just fine with me.

Image: Little Rabbit

More about Little Rabbit...