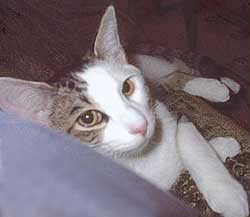 thursday, february 14, 2001
Meet Stuart!
Stuart swims twice a day in the bathtub. Mornings and evenings his assistants run his bath, three inches of lovely warm water. There's the shallow end, good for creating tsunamis with his paws, and the deep end where he eventually settles down for a good soak up to the brisket, stretching out his arms with soggy satisfaction.
When Stuart is finished with his swim, he steps out onto the bathmat, and his well-trained assistants towel him off with a big fuzzy towel. Such treatment is common only to swimming cats and the fabulously wealthy.
It is the luck of the Danish that brought us this photo of the Old Boy. Edsel had the immense good fortune to encounter one of Stuart's loyal assistants in Sears Roebuck a few weeks ago. She just happened to have this photo of Stuart in hand. With great generosity, she relinquished it to Edsel.
And so here he is. Our Nosegay!
Image: Nosegay
More about Nosegay...