tuesday, october 6, 2000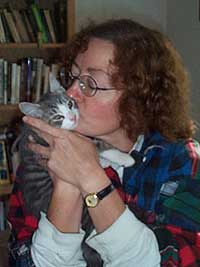 We were due to take Sugarlips, Lil' Charlie, and Nosegay to PAWS this past week.
PAWS is a registered, not-for-profit group of volunteers that sponsors a keep-forever shelter; a spay/neuter program; a pet-ownership education program; emergency medical aid for animals; and a rigorous adoption service that screens the hell out of applicants. Would-be adopters must supply the name of their veterinarian, character references, and the landlord's name if they're renting. If, say, PAWS learns from the veterinarian that the pet owner's cat died at age two for some frivolous reason, NO ADOPTION. There's followup also, and if adopters decide down the road that they can't keep the cat or dog, PAWs takes the pet back no questions asked.
So anyway, we were due to take these three darlings to PAWS, having decided that,
1. Snooples must stay because parting with all of them would be too much to bear. We are getting elderly and frail, after all.
2. Chessie must stay so that Snooples has her company. They're very close.
The problem is, of course, we are hoplessly devoted them ALL, and in equal measure! Taking MomCat and the two Gorgeous Boys to PAWS is like swallowing a large umbrella which then opens.
But if we kept them all, there would be twelve cats in our small house. The place would become like a House of Insanity.
We have tried to adopt them away to friends so that we could see them again. Maybe even cat sit. No takers.
So anyway, there we were all week, spinning our way through "denial," "bargaining," and so on, and playing mind games like, "Yep, these kittens sure are ugly."
Then the PAWS cat coordinator gives us a call on what was to be the Final Night, and she says there's an outbreak of ringworm at the adoption center, and could we possibly hang onto the cats for another week or so?
Maybe two weeks?
Bravo for Ringworm! Bravo! Bravo!
More about Chessie...
More about Snooples...
More about LittleRabbit...
More about Nosegay...