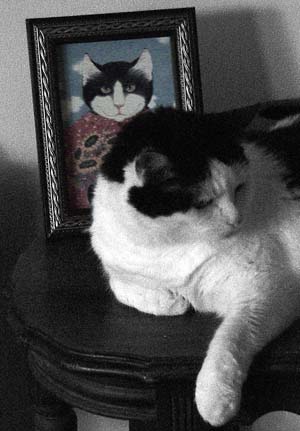 July 1
Back Portch Steps
Sigh. Summer is less than 1 day old and already I am suffering from the terrible blind staggers.
This is due to boredom.
There is nothing to do except set around on the portch like a old rotten gourd.
Except maybe watch those squirrels over there.
A bunch of squirrels are hunched under the gigantic maple tree cracking their knuckles. They are smoking Pia's filterless cigarrette butts.
One squirrel just passed this other squirrel a greasy brown paper bag. The other squirrel, he has forked over a wad of 50-dollar bills. These two squirrels, they keep glancing around in a furtive manner.
Uh oh. Here comes another squirrel hopping friskily across the grass. He is wearing a little white cowboy hat. He is wearing a leather vest and a star-shaped badge on his chest. He is carrying two tiny revolvers in little holsters.
Chessie would like those cute little revolvers.
BLAM! BLAM!
Shots have been fired! Squirrel Number Three has shot wild!
Now all the squirrels are chasing each other, looping all over the gigantic maple tree.
Here comes another squirrel. This one, he's got a bandaid stuck over his head where one ear appears to be missing. He has a stump for a tail. He has sneaked off with the greasy paper bag. He is hiding behind a galvanized watering can. He is eating potato chips out of the bag.
July 2
Am so bored that soon will begin frothing at the mouth.
Mom says go out and totate the tires on the tractor. Dad says go out and topiary the tomato plants.
However, these suggestions only serve to intensify the ennui.
July 3
At least there is entertainment today.
Pia is mowing the yard. Pia is dragging the lawn mower back and forth like a luggage cart and has a red bandanna rolled up and tied around her head and she is cursing and swearing. Pia has a Walk Cat clamped to her ears.
If Dad sees the pack of Camel Filterless cigarrettes sticking out of the top of Pia's bandanna there will be hell to pay.

July Whatever
Continuing to suffer the horrible slow euthanasia of boredom.
Pia is outside raming repeatedly into something with the lawn mower. I hope that is not Iron John.
Last time that Pia ran into Iron John with the lawn mower Mom and Dad were not at home. We had to rush the lawnmower to the hospital emergency room in the back seat of Charlie's Mini Cooper. I had to run ahead down the hospital corridor yelling move aside! move aside! Chickenloaf and Pia and Ben followed dragging the lawnmower which was dribbling oil and cotter pins and stuff all over the carpet. Then we got the lawn mower inside the hospital emergency room, and they laughed at us!
Whatever Pia was runing into repeatedly with the lawn mower just got ground to confetti.
Perhaps it was one of Ninis plastic lambs.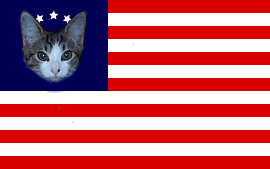 The Fourth of July
5:15 a.m.
Well here it is the Fourth of July!
Not that you can actually tell it is the Fourth of July in this excruciatingly boring family.
It is 5:30. Dad is still sleeping like a dead cow. Nini has chosen this day of all days to clean her collection of Hummel figurines with Dads tooth brush. Pia is sprawled half the length of the couch and is snoring like a chainsaw.
Chessie attempted to greet the day. However Chessie has toppled over face down and is stretched out asleep in her Squirrel Nutkin pajamas and clutching her Squirrel Nutkin doll on the Turkey Rug.
Mom is reading Pet Sematary. Of all the damned things which to read.
Where the hell is Snooples. Snooples: that is who we need. The Fourth of July, that is Snooples' specialty.
BAM! BAM!
BOOM BOOM BAM!
BOOM BOOM BAM!
ZING! ZING!
Ah, that is better. Snooples has placed THE STARS AND STRIPES FOREVER at top volume on the Victrola, and it is filling every corner of the house with this rousing patriotic tune.
That should wake Dad up nicely.
Noon
The Fireman's Carnival and Fourth of July Fireworks are still about 80 hours away, however we do not want to risk being late. We are packing all the fireworks supplies.
Snooples is carefully packing disposable cameras for everyone. Snooples is wrapping each camera carefully in 20 layers of tissue paper. Snooples is tying each camera up with twine and is labeling each one with our names.
Chessie is packing every damned one of her stuffed animals.
CHESSIE LEAVE YOUR STUFFED ANIMALS AT HOME. AT THE FAIRGROUND THEY WILL STARVE AND DIE.
But are already posthumous and necrotic!
Chessie never listens to reason.
Weakie is packing hot dogs and hamburgs and horseradish wafers plus dilled tomatoes and cream puffs and frozen cream cheese curds. Also smoked salmon and delmonicos whatever the hell those are.
Nini is packing enough blankets to survive a blizzard. No one knows why.
Pia is packing a whole artillery of M-80s.

July 5
Another Fourth of July come and gone.
At first the carnival and fireworks celebration was pretty fun. But then everything sucked.
The mosquitoes were fun. They were flying everywheres and and Pia said EAT THEM BEFORE THEY EAT YOU. So we caught them and sprinkled them on the delmonicos. They were delicious.
Also the reptile exhibit was fun! There was a very interesting rat snake with body piercings and interesting tattoos. They were selling baby albino rattle snakes also snake eggs but Dad said OVER YOUR DEAD BODY. So no baby snakes for anybody, which sucked.
Then it started to get dark. Snooples brought out a special little music box from her picnic basket which when you wound it up and opened the lid it tinkled out BULLETS AND BAYONETS.
There was not a dry eye in the crowd.
Then two junior high schoolers with cornets stumbled through LAST POST AND QUARTERS on their cornets and Ben began sobbing loudly into his emboidered handkerchief.
Then the fireworks started!
At which point we had to go home straightaway. On account of the fireworks were not good for Snooples pre-traumatic stress disorder. Snooples said she recalled that she was a refurbished Corvair in a future life equipped with headers which backfired like a whole flock of farting muskovies every time the Corvair went down steep hills in quiet neighborhoods.
This was very stressful for Snooples.
Also, Chessie fainted dead away believing she had been shot in the liver.
July 10
Pia ran over another one of Ninis plastic lambs with the lawn mower last week and ground it to confetti. So no rollerskating money for Pia this week. Which means no rollerskating for any of us this week. As Pia serves as the chaperone.
July 15
Feral cats, they don't know how good they've got it.
Feral cats, they have to fight for their lives. Plus they sleep under old Dodge Darts. Plus they get to pittle all over their territory.
This leaves absolutely no room for boredom.
Also feral cats get to hunt dumpster-raised rats. Think about it. Dumpster raised rats live on Cheese Dootles and Kentucky Fried Chicken. That means the meat is very succulent. Also pre-salted.
July 18
Setting on the west Portch with Moms opera glasses and PawPilot.
This one squirrel, he just putzed up on a tiny motorbike. He has parked his motorbike under the spirea bushes. That motorbike it has a little Indian head on the fender.
This squirrel, he is wearing a brown leather jacket with interesting buckles and a squirrel skull stitched all over the back. The squirrel, he is leaning against the gigantic maple and he is cracking his hairy little knuckles.
Chessie would enjoy that little motorbike.
Here comes anther squirrel. This one is riding a miniature Triumph motorbike. He is carrying a greasy paper bag.
Money has exchanged paws.
Now the squirrel with the Indian Chief motorbike has buzzed away with the greasy paper bag. Chessie would like his little knee boots.
Uh oh. Here comes the squirrel with the white cowboy hat. He is riding a Harley. He has drawn his firearms!
Now the squirrel wit the cowboy hat is frisking Squirrel Number One. Now they are both frisking! They are frisking up and down the tree!


July 19
Raining.
Frisk Mode on PawPilot appears to no longer work. Sputters and says PAC MAN GAME OVER.
I wonder what the hell that means.
Chessie and Snooples are stacking Nutella jars and singing POOR LOST LOG. They are singing it over and over and over and over and over and over.
They have the words all wrong.
SNOOPLES AND CHESSIE THOSE ARE NOT THE WORDS TO POOR LOST LOG. THERE IS NOTHING ABOUT A CHEESE PRINCESS IN POOR LOST LOG.
Au contrare! The song is most unscrupulous!
Why do I keep trying to serve as a mentor to these two.
July 20
Bored half out of fur.
Am watching a large avocado colored insect hunched at the end of the portch step. This insect is approximately the size of a folding step stool. Six-inch wirey antennas with fuzzy yellowish green balls on the ends sprout from the bullet-like head. The foots appear to be lined on each side with tiny razors. It appears to have a steak knife for a tail.
It is devouring a mouse. There is much crunching and slurping.
July 21
Portch Steps
Ninis 27 lawn sprinklers are whirring and whirring and whirring and whirring and whirring and whirring and whirring. It is the only sound for hundreds of miles except for a farting little airplane over head and the chakiras rattling their legs in the woods.
Sigh.
Maybe I will begin to write a novel.
Nordric sensed that an unnameable danger crept along the baseboard at the far end of the cavernous pantry lined with shelf upon shelf of preserved foods...
What is that sound.
Oh it is Snooples and Chessie. They have dressed up in their killts and have dragged all three of the chain saws plus the lawn mower plus the weed whacker out of the shed and they are firing all of them up one after the other. Now they are marching around them playing their new mail-order War Pipes.
The weed whacker could use a tuning.
Anyway.
Nordric crept through the dusty light toward the scuttling sounds, which seemed to be growing fainter and farther away. On either side, cucumbers, meat cubes, and string beans floated in blue-green glass jars. Pickled eggs watched, baleful and unblinking in their purple brine...
Why is one of the chainsaws backfiring erratically. Oh it is just Ben with his Soosaphone.
The danger, whatever it may be, was linked with these eggs. He knew that much.
Am not sure the thing about the eggs is working all that well.
Damn it what now. Oh it is the mail man arriving in his blatting Honda Accordion.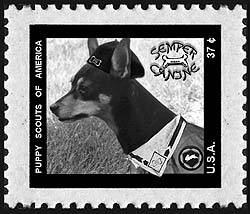 July 15, 2003
Dear Gracie;
Now that your summer has arrived, I am sure you are very busy planting crops, bundling hay, tending to young livestock, and removing stones from your fields. Summer is a time of many chores!
I am hoping that midst your many tasks, you will still have time to write to your good friend, Muffin.
This has been a joyous season, as we have a new foal! He is a rich chestnut color and very frisky. Guess what we have named him: Ben! After your spiritual leader, Ben!
Write back soon. I am especially looking forward to learning where you shall go for your summer camping expedition!
Your Best Friend Who is Far Away,
Muffin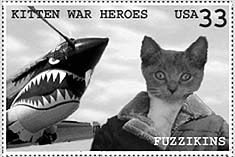 July 22, 2003

Dear Muffin:

What do you do over there when you are bored to the point of shedding all your fur everywheres. Maybe you castrate a bull or something, I don't know. Anyways, I am looking for creative ideas.
Surely there must be moments of boredom even in a laborious hard scrabble existence in a harsh, unforgiving land.

Yours,
Gracie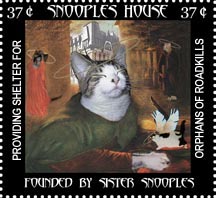 July 23, 2003
Muffin,
Do you have squirrels over there. If so how do you keep them from stealing the window glass out of all your motor vehicles. Dad is furious about this.
I do not have proof, but also I suspect that the squirrels around here are participating in an illegal potato chip ring.
Any information on squirrel activities, illegal or otherwise, will be appreciated.
Yours,
Gracie
P.S. Snooples says to tell you she is dehorned. Snooples is very proud of this. Don't ask me what this is about I don't know.
P.P.S. Snooples also says to tell you she met you once. This was in a future life. In a small tire swing repair shop in Montgomery, Alabama.
I am just passing this stuff along.
July 25
Am watching squirrels with Dads spotting scope. Two squirrels in white t-shirts with the sleeves rolled up to their armpits are prying the rear view mirror off Dads truck with screwdrivers.
A old Toyota just putzed by with a big old tent strapped to the top.
Now am reading Muffins letter.
Oh Jesus Mary and Joseph. Mom and Dad have forgotten about sending us to summer camp. I had better go speak with them directly.

July 26
Raining.
Nini is practicing the violin. This is an entirely new instrument for Nini.
It is screetching and squawking as though Nini is sawing up crows.
Chickenloaf and Ben are watching television programs. They are watching That Darned Llama. Which does not appear to be very funny yet which blasts a laughing track at high volume at regular intervals. This causes Ben to laugh heartily and slap his knee.
THOSE LLAMAS CERTAINLY KNOW HOW TO PUT ON A GOOD SHOW!
That is what Ben says.
I am supposed to be supervising Snooples and Chessie, who are making supper. But they are being very quiet in the kitchen, so I am sure there is no problem.
Pia just got home from rehearsing with her new band The Dead Pups. Where did Pia get that beaded white leather outfit.
Uh oh. Pia just mentioned that Chessie has dumped an entire case of 144 hot dogs into a large Revere Ware vat full of water which is at a rolling boil on the cookstove.
CHESSIE DO NOT BOIL QUITE SO MANY HOT DOGS. THERE ARE ONLY FIVE OF US CURRENTLY ON THE PREMISIS.
But they are winsome and arabesque!
THAT IS NOT THE POINT CHESSIE.
Snooples is making a large wash basin full of lime jello. But with no banana slices.
SNOOPLES YOU CANNOT MAKE JELLO WITHOUT BANANA SLICES. IT WILL BE COMPLETELY INEDIBLE.
Tears are welling up in Snooples eyes.
The vat of hot dogs just boiled over.
Chessie has dropped a large bowl of chocolate cake batter all over the heat register. It is oozing through the heat register down into the basement.
Oh good heavens the Tilapia pups are down there.


July 27
Raining.
Breathe deep the gathering gloom...
Ben is practicing Tai Chi to the Moody Blues on the Victrola.
Snooples and Chessie have devised an elaborate hopscotch-like game using the patterns on the Turkey Rug plus little saucers of lime jello embedded with hot dog slices.
Chickenloaf is entranced by another episode of That Darned Llama.
I am trying to read The Iliad.
July 28
Raining.
Am watching squirrels from dining room window with Charlies astronomical telescope. Five squirrels are dragging things back and forth from the basement to the spirea bushes. Wrenches and hack saws and things.
I'd better open the window and holler at them.
HEY SQUIRRELS MAKE SURE TO PUT EVERYTHING BACK WHERE YOU GOT IT WHEN YOU ARE DONE. OTHERWISE US KIDS WILL CATCH HELL.
Now the squirrels are popping straight up in the air and chattering and pointing at me. I think they are using swear words. Now they are huddled together. Bandaid Ear is whispering something and pointing at me with his thumb.
Well at least now they know not to misplace the tools.
July 31
Portch Steps
Monotonously thumping disco music coming from under spirea bushes. Several kinds of miniature vehicles plus some tiny bicycles parked near drip line.
Will investigate at dusk.
TO BE CONTINUED...