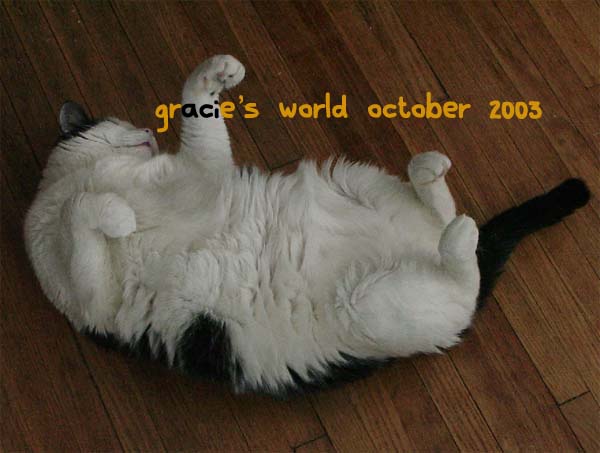 October 1, 2003
Muffin:
You might want to know that Bucky Lawless and Bing Hamton have joined the all-elk-and-deer drum and bugle corps known as The Marching Antlers.
They will play the kittle drums.
Yours,
Gracie.
October 3, 2003
Muffin:
See, in The Marching Antlers the deers do all the drumming and the elks do all the buglery. It is a sight to see.
Those deers and elks, they march right down the street in Full Antler. They wear snappy red and black outfits and the kittle drummers twirl their kittle thumpers in an elaborate manner. Sometimes they toss candies to the little kids.
They are kind of like Marines only with horns.
Yours Truly,
GDL
October 5, 2003
Muffin:
Am writing from Unnecessary Classics class. Ms. Wysiwyg is parceling sentences from the poetry of Laura Riding Jackson. It is mind numbing.
Anyways, the lecture is only sporadically audible. This is on account of the Marching Antlers are practicing in the school parking lot. You can hear the whitetail deers a-bashing their kittle drums. You can hear the elks bugling out their noses. Also you can see all the antlers moving back and forth.
They are practicing the theme from Rocky.
Sincerely,
GDL
October 7
On School Steps
Waiting for Walter Whitman to show up with the school bus. Walter Whitman is late.
The Marching Antlers are practicing over there in the rugby field. They are practicing the theme to Star Wars. They are marching in a elaborate pattern which represents The Battle of the Death Star.
Ben is the drum major. I guess on account of Bens experience leading all-harmonica bands although it is weird.
Ben is bobbing a baton the size of a dust mop up and down and he is marching with ridulous high steps and his whiskers pointed straight forward at the front of a line of whitetail deers which are a rattlin' their kittle thumpers and tossing them in the air and catching them in their teeth.
Here comes the good part. They are about to blow up the Death Star. What is that honking noise. That is not part of the Star Wars Pep March. Oh it is Walter Whitman leaning on the school bus horn.
HEY WALTER WHITMAN WHY AREN'T YOU A PROUD MEMBER OF THE MARCHING ANTLERS LIKE THE REST OF THE WHITE TAIL DEERS.
March with the Mule Deer Veterans of Foreign Wars.
OH YEAH I FORGOT YOU ARE A MULE DEER.
October 9
After School
The squirrel discotheque has changed ownership. It is now owned by a bunch of weasels. Also it is no longer a discotheque. It has a live cowboy band every night now. It is a bunch of fat woodchucks.
Right now they are playing SITTIN' ON A DRYWALL BUCKET THINKIN' OF MY TRUE LOVE. Now they are playing EVERYBODY HOLLERIN' GOAT.
Now they are playing BUTT SCROOTING GROOTIE. I like that song.
October 11
After School
Watching through L.L. Bean binoculars the Squirrel Discotheque which is now a Weasel Cowboy Bar.
Lots of battered little pickup trucks are lined up out in front.
The badgers from the old discotheque days, they are still there. They wear tall white 10 gallon hats. They wear pointed boots in the pattern of Holstein cows. They are leaning on either side of the door which has a old skinless cow head hanging in the middle of it.
They are loudly cracking their knuckles .
HEY BADGERS DO NOT CRACK YOUR KNUCKLES THEY WILL FREEZE THAT WAY.
MIND YOUR OWN BEES KID. OR WHATEVER.
Badgers are kind of stupid.
Also there is a sign on the door:
NO SKUNKS
Underneath that sign is another sign:
NO PORKYPINES
Underneath that sign there is another sign:
NO WATCHING THE CLIENTELE WITH BINOCULARS
October 13
After School
Watching with L.L. Bean binoculars the interesting clientele coming and going from the cowboy bar underneath the spirea bushes. The fat woodchuck band is playing IF SHE WASN'T ON BLOCKS.
A little while ago three squirrels drove up in a miniature 1968 Mustang with real mouse testicles hanging from the rear view mirror. Those squirrels, they are wearing gray t-shirts with the sleeves rolled up all the way to the armpits. They are leaning all over that little red Mustang. They are attempting to look casual, yet dangerous. It is not terribly convincing as they are nibbling acorns.
October 17
Early Afternoon
Oh no there are those three drunk skunks again. They are swaying out the door of The Blind Staggers. They are propping one another up. They are singing I SEND MY BONNY BRINDLE COW TO THEE.
Now they are singing OLD PADDY STEINBERGER.
They do not seem to heed the NO SKUNKS sign.
Nor do the Porkypines heed the sign that says NO PORKYPINES. I can see a very large and distinguished Porkypine inside wearing a silk paisley vest and gold-rimmed spectacles and a enormous pocket watch. He is setting alone in a booth next to the window spooning up soup and sipping cognack.
That Porkypine's quills are all puffed out.
October 19
After School
Using Pia's spotting scope to observe the large porkypine setting in the booth inside the cowboy bar. That porkypine, he is having tea and soup and cognack.
That porkypine: there is a rumor that he is interested in purchasing the cowboy bar and changing the name from The Blind Staggers to The Dimwiddle. However this is just a rumor.
All I know is that porkypine's Rolls Royce is parked out front much of the time.
That porkypine, his name is Winston Stickler III.
October 23
After School
Several 1940s Mercedes and Rolls Royces are parked around the cowboy bar under the Spiraea bushes. Nine large porkypines are trundling about the property. One of the porkypines is holding a large monocle up to his eye and is examining Nini's herb beds.
Those porkypines are ignoring the new signs nailed to the door which read:
NO PORKOPINES PORKYPINES MILLING EVERYWHERES AROUND HERE GO AWAY
ALSO NO DARTS THROWING WHATEVER

October 25, 2003

Muffin,
Important news. Hank IV will be giving a concert at The Blind Staggers this Saturday evening. A bunch of us have obtained tickets even though Mom and Dad have admonished us to stay away from that bar until the Pest Control Guy gets rid of all the varmints in the yard next month.
The tickets were only $60 apiece which is a great deal.
Hank IV is Hank III's very own rabbit hound.
I am not kidding!
Anyways, I am sending you a ticket in case you are able to attend. Extra parking for the event is in the rear in Dad's perennial gardens.
Hank IV plays the Fender. I simply cannot wait.
See you there,
GDL
October 28, 2003
Muffin,
It is too bad you missed the Hank IV concert. It was most memorable. Hank IV, he played a old Bicycle Fender. Slapped it with a spatula.
The weasels, they put a sign up on the door: RABBITS MOST WELCOME. But no rabbits showed up. Anyways not inside. Several rabbits marched around outside carrying signs that said STOP THE HOUNDING.
Anyways it was a great concert. Hank IV, he played GOT SKUNKED ON THE WAY HOME FROM SAN ANTONE and TOE NAILS A-CLACKIN' ON THE NEW KITCHEN LINOLEUM.
For a finale, Hank IV played WOKE UP DRUNK, NEUTERED, AND EAR-BOBBED. Everybody sang along.
Chickenloaf tossed a silk hankie with pink lace around the edge, and Hank IV dabbled his armpits with it and tossed it back. Everybody screamed.
Then it was time to go home.
I will send photographs when the duplicates arrive. Everybody has red-eye, but you will get the idea.
Yours Truly,
GDL
October 31, 2003
Muffin,
I forgot to mention that Hank IV got sort of drunk. Pia says she saw him piddling but I do not believe it.
GDL