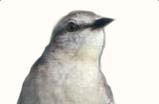 Mimulus Beak, a local northern mockingbird, has been accused of infringing on the songs of 36 bird species.
It's springtime, but several bird species in the Bassettville area don't feel like singing.
"It's just no fun anymore," says Skip Harbinger, a white-throated sparrow (Zonotrichia albicollis). "Us sparrows, we used to sing all day long. Now our hearts aren't in it."
The reason: Plagiarism.
Eight bird groups, as well as a regional cellular phone company, formed the legal coalition Don't Imitate Me With Intentions to Tease (DIMWIT) early this spring and have filed civil charges against Mimulus Beak, a local northern mockingbird (Mimus polyglottus). They claim Beak is misappropriating their material. continued on page A8...


Chuck MacSweeny
Surviving family and friends of Chuck MacSweeny, later processed into the first Ground Chuck, are suing Wyoming cattle rancher Leon MacSweeny on grounds of misrepresentation of a beef operation and causing herd-related mental anguish.
Leon MacSweeny purportedly misled a herd of Black Angus into thinking that his 2,000-acre ranch was a vacation resort for cattle. continued on page A16...

by Chessie Van Lips
A Worm is dead. Nobody knows why.
continued on page B3...

PUBLISHER

Katerina Burninghams, Esq.

Circle widens in Lice Land scandal
Celebrated birthplace of Elvis The Pine Siskin enshrouded in foul play
What at first appeared to be a simple case of Mistaken Nest has escalated into a far-reaching scandal involving Bingo the Rat's infamous Rat Mob and the DAR.

Touted as the birthplace of actor-comedian-folk singer Elvis the Pine Siskin, a 6-foot-diameter nest situated at the top of a 50-foot dead black walnut tree in Kane County, Pennsylvania came under close scrutiny early this week when an avian specialist observed that it is actually the nest of a bald eagle. continued on page B5...

Thornton Woodhouse, toad and local artist specializing in large oil-painted murals featuring different cattle breeds, has been missing for 12 days, ever since he ventured onto a four-lane highway during rush hour near his home in DewPoint. Woodhouse is presumed to have been abducted by aliens.
continued on page C9...

NEWS BRIEFS
A hideous rubbery extraterrestrial egg festooned with Bugs Bunny characters was found in the compost pile of Walter Dennison late last night.

Whitetail deer in the northern section of the county have been stockpiling weapons in anticipation of the opening of hunting season two months from now. "This time we plan give them a little competition," Bassettville whitetail Elroy "Buckey" Lawless commented.

Local tycoon Katerina Burninghams purchased the failing Microsoft Corporation late last night. Plans are to leverage a conversion to manufacturing pet food and toys.

Tuesday evening's outdoor concert by the controversial band The Free Radicals has been cancelled.

Upon close inspection, the baby fish inside caviar have big, sad eyes.


Genius behind Euthanasia late-night comedy show found dead in his Manhattan apartment
Hamster apparently died of advanced age
Grover "Teddy Bear" Cheeks, creator of the unfailingly popular late-night comedy program "Euthanasia," was found dead on his exercise wheel in his Manhattan apartment early Sunday. The cause of death apparently was advanced age. Cheeks was 3 1/2 years old. continued on page B7...

100 Years Ago




"I'll kick his ass."

World heavyweight champion fighting horse Haystack Peachey pooched lips in distain at insinuations that he would lose the famous 1903 match with Tippy Toes Stolzfus.
"Nyyeeeeahhh," Peachey sneered at reporters. "I'll kick his ass."
The 2,250-pound Peachey did indeed kick the ass of the contending Stolzfus. Three-quarters of the way through the historic match, the uppity Clydesdale, at 2,100 pounds, was pitched directly through the side of the arena in a hail of splintered barn boards.