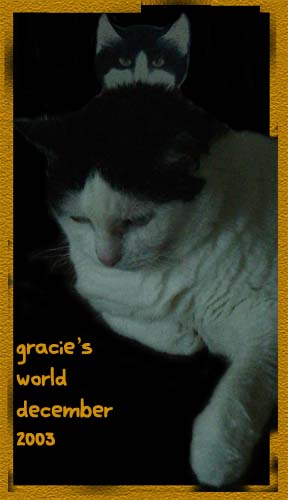 December 24
10:00 a.m.
Snooples: leggings w/ reinforced knee pads
Charlie: crab's wool sweater
Dad: snowmobile cozy
Good heavens what are those nightmarish things the color of blue swimming pool lining.
AZURE ICE FIGURINES
SMALL: $500 EACH
LARGE: $5,000 EACH
WIZARDS: $10,000 EACH
There are leaping dolphins, prancing unicorns, twenty or so droopy-eyed wizards, and a half a dozen Elvis busts. The Elvises have terribly soulful expressions.
There is a basset hound with one foreleg pointing straight up.
There is a white-tail deer. I mean a azure-tail deer. Oh, it is a elk.
All of those blue things, they are crusted with glittery crud. They look angry yet terminated as though they died of bad hallucinogens.
Also they are perched all over a big display right at the shopping mall entrance. Somebody should get them out of here before they frighten the small kids.
10:30 a.m.
Chickenloaf: pink ballerina slippers. or painting of dogs playing poker
Nini: bright red cast iron door stop in shape of lobster
Standing in line so that Chessie and Snooples may sit upon Santa's lap. Pia is bored and has resorted to loud knuckle cracking. Pia says Santa reeks of bourbon. However he is giving out nice gifts some little kid just got a fondue set.
Chessie is next.
Screw shopping I am going to get an ankle pierced. Pia has just announced this.
I am of the mind that Pia has too many piercings as it is.
There goes Pia flouncing off in her denim trousers with the ripped hind end.
Now Snooples wants to get a toe pierced.
SNOOPLES THAT IS NEITHER ESSENTIAL NOR PRACTICAL.
Now Snooples eyes are brimming like wading pools.
HARDY AND BRAVE PIONEER CATS DID NOT GET TOES PIERCED. YOU KNOW THIS.
Now Snooples is hiding under Santa's chair. We will need to lure Snooples out with a fruit cup.
10:45 a.m.
Charlie still looking for parking space.
Chickenloaf is counting the money in her purse to see if an AZURE ICE ELVIS is affordable. Chessie is already loaded down with packages from Sears and The Gap. Snooples is sucking one mitten and gazing wistfully at Earring Palace.
10:45 a.m.
Travel alarm clock Ben bought for Dad is buzzing nonstop, however we cannot locate it in shopping cart as cart is 4 feet deep with purchases, including 43 pot holders with farm scenes which Chickenloaf just got on sale at Kitchen Krackpot. Am hoping travel alarm clock dies soon.
Meanwhile, are enjoying pickles and gigantic pretzels which pull apart if you claw at them. Chessie is sucking a Banana Julius with extra eggs through a straw shaped like a gerbil in the middle.
Mom: snakeskin cowboy boots. portable duck blind.
Weakie: some nice pencil erasers
11:20 a.m.
Chickenloaf and Ben and Snooples are transfixed in front of 20 television sets all playing Blair Witch Project. It is the scene with the teeth.
Chessie is asleep on top of a stack of decorative throw pillows in the shopping cart.
11:45 a.m.
Little Rabbit: homemade Viking hat (was vegetable colander)
Bucky Lawless: night-vision goggles
Am at a loss as to what to get for Brother Nosegay. What do you get for a Munk anyways who wears nothing but burlap, raises cabbages for fun, meditates about 18 hours a day, and probably hangs upside down in a tree with burdocks stuck in his fur or something of that nature as reparation.
Oh I know. A fruit basket.
11:55 a.m.
Walter Whitman: thermos bottle made of bull scrotum
Chessie: jump rope with transparent handles and snow globe scene inside
Ms. Van Lips the Art Teacher: assorted cheeses
However, Chessie does not want a jump rope. Chessie wants something called a Tremulous Flute.
CHESSIE WHAT IN HEAVENS NAME IS A TREMULOUS FLUTE. I CANNOT FIND ONE EVEN ON EBAY.
it is fabricated! no more no less! it is most tremulous!
Now Snooples and Chessie are singing WHISKEY IN THE JAR over and over and over and over and over and it is driving us nuts. Every time they get to the Moosha rigga digga doom doo dah ding dong part they crank up the volume and pretend they are waving beer mugs.
Plus they sing it all wrong.
SNOOPLES AND CHESSIE WHERE DID YOU LEARN THAT SONG.
from barley and frankie tooney!
THAT IS A BAD SONG. IT IS ABOUT STABBERS.
moosha rigga digga doom doom!...
12 p.m.
Pia: Mr. Microphone kit
Ben: new bagpipes, as left his on bus during field trip to Penns Cave
Must push the shopping cart on account of Pia has gone off to sporting goods store to buy gun slings.
Chickenloaf has her pink patent leather purse slung over her hairy little arm in a businesslike manner and is riffling through framed prints of farm animals that all have big dreamy eyes. Chickenloaf has selected a painting of a basket of Basset hound pups. I wonder who that is for.
Snooples has not yet purchased anything with the $40 paperclipped to the inside of her ankle sock. Snooples is weird about money. For example Nini gave Snooples one of her old beaded purses for the holidays and stuffed it with $3 million. However Snooples gave all that money away to her friends.
12:35 p.m.
Piannisimo Fortissimo Music Emporium
Charlie is purchasing a antique upright bass fiddle. It is anybody's guess how we will get it home in the Miata.
I am looking at tiny harmonicas in glass display case. Had no idea that bagpipes cost as much as a small mobile home.

1 p.m.
Buttons-n-Bundles-n-Such
Purchased a harmonica that is 1 inch long at the music store for Ben. Must be careful not to lose it through the holes in the shopping cart.
Chickenloaf is loading up on bright yellow doilies and little wooden sheep. I guess the little wooden sheep are to place with your linens or some foolish thing. I do not know.
What smells in here.
Oh it is those cakes of soap shaped like all the animals on Noah's ark.

1:10 p.m.
Hot Dog Hutch
"...Grandma got run over by a..."
"...Rudolph tinkling up on high!..."
Taking hot dog break as have been inundated with overlapping nonsensical secular holiday tunes throughout the mall. Just had 3 hot dogs with beans and sauerkraut and cheese. Am a little gassy.
Chessie is slurping the dregs of another Banana Julius through a straw shaped like a kangaroo. This is Chessies third Banana Julius today.
Think I will go into that Gap For Cats store over there, as it appears to feature woolly leggings.
2:30 p.m.
Vibes Records
Here is something Dad might like. A 6-CD set called Klezmer Klassics! with an accompanying miniature accordion and educational video.
However I will hold out for a snowmobile cozy as it is the perfect gift.
3:08 p.m.
"...oh! I'll be in Rockview for Christmas..."
Am being tortured by secular holiday music once again while pawing through yarns at J.C. Penney's. Perhaps can knittle a snowmobile cozy in 36 hours using simple garter stitch. Oh, here is some nice cashmere hunter's blaze orange yarn.
But there is not enough yarn. Plus it says Warning! For Baby Garments Only!
Ben is sneezing and weeping over the yarns.
The lambs! The lambs! That is Ben's lament.
3:21 p.m.
"...elves a bumbling! Santa's crumbling!..."
Chickenloaf is examining a Fargo snow globe. It has a little overturned car inside.
Now I do not know what to get Muffin. What the hell do you get when you don't even know the species of the recipient.
Diamond earrings perhaps.
3:35 p.m.
Smug's Jewelers
those ones!
Snooples has just pressed a soggy mitten onto the sparkling diamond earrings resting on their black velvet pillow that the gentleman is holding out for our scrutinization.
The gentleman is gazing at us as though we are piles of nose hair clippings.
I DO NOT KNOW, SNOOPLES. THEY SEEM RATHER LARGE.
how much?
SNOOPLES MIND YOU TRY NOT TO SOUND SO SQUEAKY.
Fifteen thousand. Absolutely no credit to cats.
OKAY EVERYBODY LET'S HEAD OVER TO DOLLAR DUMP.
Snooples is pulling a large wad of $1,000 bills out of her purse. I had no idea that Nini's picture was on $1,000 bills these days.
4 p.m.
Fleece Furniture
A store clerk is fussing all around Ben, who just mentioned offhand that he is an heir, which is news to us.
That clerk is trying to interest Ben in a nice kangaroo leather recliner chair. That clerk is wearing a plaid silk ascot with a little pearl brootch in the center. I thought they only wore those things on Mystery Theater.
Ben is walking around the recliner chair and kicking the legs authoritatively.
Can't be too careful about the legs on these babies!
That is what Ben says.
Maybe this canopy bed over here could be converted into a snowmobile cozy. It would take with a little sawing here and there.
However, perhaps there is too much eyelet lace.
4:12 p.m.
Am standing outside Spencer Gifts which has black walls which are festooned with actual spider webs. Within are misty outlines of what seem to be exotic smoking paraphernalia plus gila monster-shaped accessories.
But cannot tell for sure due to the distracting columns of lava lamps flanking the entrance.
We are waiting for Ben, who is checking names off his gift list. Ben is smacking his lips with satisfaction and is murmuring phrases such as model of efficiency and take a few lessons from Yours Truly. Ben has gotten everybody nutmeg graters.
Snooples just wandered dreamily into Spencer Gifts.
4:30 p.m.
Kauffman's Dresses for Special Occasions Section
Ears buzzing due to shopping mall music-related enervation.
However am making progress toward purchase of snowmobile cozy. This bridal gown has great potential for conversion. Appears to be constructed out of some sort of waterproof material. Plus the tag says TRAIN INCLUDED. Which is very interesting.
HEY LADY HOW MUCH IS THIS BRIDAL GOWN AND IS THE TRAIN ACTUALLY A ELECTRIC TRAIN.
4:55 p.m.
"...Frosty the pigeon farter!..."
Gads there are those sparkly swimming-pool blue monstrosities again. One of the wizards has dropped an arm.
I guess it is time to go down the escalator.
5:05 p.m.
Here is a store that sells extension cords that's all. Here's one that sells only joist hangers.
This one sells wrought iron and chocolates. Maybe somebody on my list would like some meat hooks. Where is Snooples.
5:20 p.m.
Spencer Gifts
Decorative handcuffs are tinkling on the walls to the rhythm of a throbbing Nirvana tune. The store clerk is an unknown breed of hairless dog with piercings and various hardware festooning scrawny body. According to left front leg this dog was in the Marines.
EXCUSE ME HAVE YOU SEEN A YOUNG MACKEREL TABBY WEARING A 3-FOOT LONG STOCKING HAT WITH A PLASTIC REINDEER TIED TO THE TASSEL.
No way, dudes.
A SMALL TABBY? THE SIZE OF A PICKLE LOAF.
Nope.
PURPLE STIRRUP SKI PANTS RIPPED OUT AT KNEES AND MENDED WITH BAND-AIDS? SPONGE BOB LUNCH BOX?
Can't say as I have in this lifetime.
5:35 p.m.
Excellent. Here is a sporting goods store.
HEY MISTER DO YOU SELL SNOWMOBILE COZIES.
First floor. Third store from the street, kid.
HAVE YOU SEEN A SHORT MACKEREL TABBY WITH A SMALL SCAR ON THE NOSE BY ANY CHANCE.
Nope. Saw a three-legged Schnauzer a while ago, though.
OKEY DOKEY.
5:40 p.m.
Am peering through bars of steel gate into dim cavern that once was third store from the street on the first floor.
There is nothing in there but a empty Yoo Hoo bottle laying in the dust.
6:25 p.m.
Spencer Gifts
Deafening Frank Sinatra ballads making the walls shake. That hairless dog is selling a bright-blue-tempera-on-black-velvet landscape with BREATHE DEEP THE GATHERING GLOOM trailing across a dramatic mountain range. He is selling it to a hedgehog with its quills died tomato red and styled in a Mohawk.
EXCUSE ME BUT ARE YOU ABSOLUTELY CERTAIN YOU HAVE NOT SEEN A SMALL BROWN TABBY CAT WITH WHITE ANKLES.
No way dudes.
BLUE PEA COAT? ALL THE BUTTONS MISSING?
Uh uh.
BEADED PURSE SAFETY-PINNED TO THE FRONT?
Never came in here that's for sure, dudes.
7 p.m.
Danger Afield Hunting Supply Store for City Guys
Wrong timbre.
Too much vibrato.
A turkey call must sound rich, sonorous. Above all, sincere!
Ben insists on trying out every single turkey call in the display case. Ben is shaking his head in dismay.
HEY BEN WHO THE HELL WANTS A TURKEY CALL FOR CHRISTMAS ANYWAYS NOT ME.
Ben stares at us in horror.
Chickenloaf is examining at a pile of fake plastic deer poop.
HEY MISTER DO YOU HAVE ANY SNOWMOBILE COZIES.
Don't sell 'em. Too much of a liability.
THEN HAVE YOU SEEN A SMALL TABBY CAT WITH A VOICE LIKE A BULLFROG BY ANY CHANCE.
Not so's you'd notice.
7:20 p.m.
Spencer Gifts
Jefferson Starship pounding out of wall speakers. That hairless dog must be on a break. Now there is a Chihuahua wearing black leather with silver studs.
ARE YOU SURE YOU DID NOT SEE A SMALL MACKEREL TABBY CAT WITH YELLOW RUBBER BOOTS WHICH SQUEAK.
Nossir.
CHICKADEES ALL OVER A HAND-KNITTLED SWEATER?
Definitely a negative on that one.
7:28 p.m.
There are those sparkly pale blue monstrosities again. A great Dane on a leash just piddled on the 3-foot sorceress queen.
7:45 p.m.
Barnes and Noble Book Sellers
"...ONCE upon a time there was an old
cat, called Mrs. Tabitha Twitchit,
who was an anxious parent. She used to
lose her kittens continually, and whenever
they were lost they were always in mischief!

On baking day she determined to shut
them up in a cupboard..."
Sheesh. Who makes this stuff up.
8 p.m.
Spencer Gifts
Hairless dog is back from break. Is hanging bead curtains in store entrance. Each bead is a tiny black skull.
The place reeks of incense. Styx weeping loudly from speakers. Ben is purchasing tiny pricey bottle of Patchouli oil.
HEY MISTER, THAT LITTLE CAT HAD CLIP-ON EARS.
Oh, that kid.
WELL?
Beats me.
9 p.m.
Searching for Snooples under heaps of rag dolls and in barn-board jewelry chests in Krafty Kountry Kupboard Korner.
Ben and Chickenloaf are checking under the lids of all the toilet seats in Toilets R Us.
Chessie is scanning the mall with the nautical telescope which she purchased for Bucky Lawless.
Pia has borrowed a bull horn from a cop. Pia is blatting ALL RIGHT PEOPLE, BE ON THE LOOKOUT FOR A SMALL CAT THAT IS A CLUELESS TWIT.
Which seems kind of redundant.
9:50 p.m.

ATTENTION SHOPPERS. 10 MINUTES TO MALL CLOSING. PLEASE LOCATE ANY LOST PUPPIES, KITTENS, AND CHILDREN IMMEDIATELY. BEFORE IT IS TOO LATE AND YOU NEVER EVER SEE THEM AGAIN.

9:55 p.m.
Checking through Hickory Farms to see if Snooples perhaps got accidentally wrapped up in sausage and cheese gift pack.
Chessie insists that Snooples is in Outer Space.
9:57 p.m.
Have given up on possibility of purchasing snowmobile cozy as does not seem to exist in this universe.
Nor does Snooples, apparently.
Have purchased Klesmer Klassics! Which is a more appropriate gift for Dad anyways. When you think about it.
9:59 p.m.
Wheeling our three shopping carts towering with purchases toward mall exit plus getting our story straight about Snooples being in Outer Space and all.
Oh there is Nini over there in the Guilty Gourmet. I can see Nini's tall white chinchilla hat.
Nini is buying meat scissors, a mushroom growing kit, a wine caddy shaped like a life-size circus clown, and a lemon peel curler. Also a noodle rack.
There is Snooples wearing new red mittens toting the noodle rack up to the counter.