Friday, April 9, 1915
Disguised as peasants, the Cow and I have managed to slip through 22 checkpoints. However, am oncerned about transporting Cow across river.


Saturday, April 10, 1915
Managed to cross Danube with cow disguised as small house boat. When questioned, insisted that I was Anaïs Nin. Gave out autograph freely.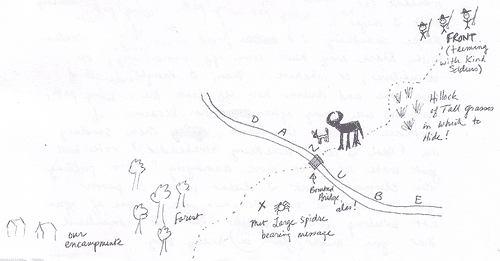 Fluffy, Stinky, and I continue to tend the wounded squirrels in our little makeshift Hospital in the Badger's Hole.


Alas, this will soon change, as Fido arrived at dawn this day, galloping up on Magnolia. Fido's cap was torn and his nose scratched, his large, blocky, brown head bandaged -- a most sorrowful wound, for now he has only one ear and that one rather shredded.
Fido has informed us that we must move the hospital three miles to the west to a large chestnut Stump. How I dread moving the squirrels!