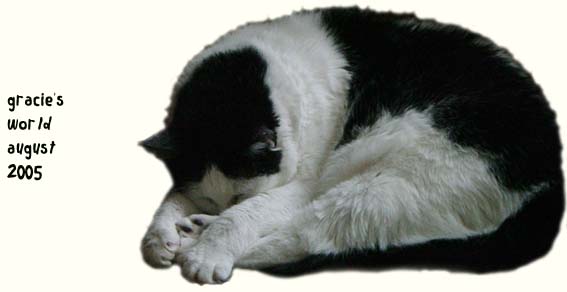 August 10
Camp Wannabee, it is pretty much the same.
The snake infested cabins, they have some new stoops. The statue of Chief Wannabee which settlers carved out of a tree trunk using chainsaws in the early 1600s. It has a fresh coat of shellack. The little herb garden: it is a miniature golf course now.
Otherwise, Camp Wannabee, it is pretty much the same.
There is a huge boat on display, however. That is somewhat different.
August 13
Camp Wannabee, it has this huge boat on display. Also a large blinking sign made with neons. That sign, it says

August 15
The Edmund Fitzgerald, it has taken up the whole horseback riding area.
Chickenloaf now must pattle her canoe across the pond early every morning to Camp Brezeer in order to ride some horses.
August 17
Camp Wannabee, it used to have a view.
You could look out a cabin window and you could see the pond through the cobwebs. Also some MAGESTIC PINES.
Not now.
Camp Wannabee, now it does not have any view whatsoever.
On account of all you can see now is the side of a huge boat.
August 11
We are walking around on a guided tour of the Edmund Fitzgerald. Chickenloaf is snapping dozens of pitchers with the Instamatic. Ben, he is muttering and scribbling extensive notes in his diary.
Here we have an actual soup ladle!
That tour guide apparently is amazed over that soup ladle. I guess Brown Swiss Cows are like that.
Ben, he has excused himself. Ben has become weepy.
I think I will wander off on my own.
August 18
The Edmund Fitzgerald, it is full of iron pellets. It is not a pirate ship as I had thought.
August 20
We are signing up for various camp activities. I am considering golf.
Snooples, she is frowning at the activities list. The tip of Snooples nose, it is pink and wet. Snooples keeps wiping her nose on the back of her paw.
SNOOPLES YOU WILL WANT TO SIGN UP FOR LITTLE KIDS ACTIVITIES. SUCH AS JIGSAW PUZZLES.
Snooples is studiously printing her name next to several activities.
Snooples has signed up for archery, knife throwing, axe throwing, rifle throwing, technical rock climbing, and heavy equipment operation.
SNOOPLES THOSE ARE NOT SUITABLE CHOICES FOR A SMALL YOUNG CAT.
Oh damnit Snooples eyes are puddling up with big tears.
ALL RIGHT BUT YOU MAY END UP PLOWING THROUGH THE SIDE OF A MOUNTAIN WITH A FORK LIFT.
August 22
7 a.m.
Slept poorly during the night. On account of the blinking neons.
Now we must embark upon a All-Day Hunting and Gathering Adventure.
7:30 a.m.
We are standing in ranks. So that Mr. Pizzler may examine our shoes. Mr. Pizzler, says no foolish shoes.
Mr. Pizzler, he has just sent a young goat back to the cabins. To find less foolish shoes. That goat, he is tottering away.
Now Mr. Pizzler, he is handing out burlap sacks. It seems that we must find ten items which one cannot purchase at Walmart.
That will be easy.
Whichever kid is the best at gathering ten items which one cannot purchase at Walmart, that kid gets a Nice Swiss Army Knife. Mr. Pizzler, he is demonstrating the Nice Swiss Army Knife. That knife, it has 22 different tools on it. Including a claw snapper plus a flea comb.
I want that knife.
7:45 a.m.
Why is Chessie balancing upon one foot. Oh I get it. Chessie has to pee.
CHESSIE YOU MUST GO TO THE RESTROOM BEFORE WE EMBARK UPON OUR HUNTING AND GATHERING ADVENTURE.
no i must not miss the shoe inspection
YOU ARE WEARING DOCTOR MARTINS. YOU HAVE NOTHING TO LOSE.
no i must not absent myself. it could lead to tragedy.
YOU MUST GO NOW OR YOU WILL PITTLE YOURSELF WET.
no!
7:55 a.m.
Now we must review The Rules of Hiking Safety.
Mr. Pittler, he is inquiring is it OK to enter a abandoned and rotting building enshrouded in nameless evil.
It is quiet except for sparrows squeaking. On account of we are thinking.
Yes!
Chickenloaf is waving her paw and is hopping up and down in her pink rubber boots.
Chickenloaf is hopping up and down again which is making the buckles upon her boots jingle.
Because it will be fun!
Correct!
Now Mr. Pittler is inquiring what do you do if you startle a moose early in the morning whilst it is shaving.
Tell a funny joke!
Chickenloaf again.
Correct!
Mr. Pittler is inquiring what do you do if you are lost in a raging blizzard with no iPod.
Sing a happy song!
Chickenloaf again.
Mr. Pittler, he is giving Chickenloaf one of those Nice Swiss Army Knifes.
8:12 a.m.
Chessie has disappeared.
Oh well, it is time for our Hike.
8:30 a.m.
Finally we have commenced our Hike. Now I must search the Wilderness for non-Walmart items.
There are lots of oak nuts and moss humps and some small weird orange lizards. However there is nothing that one cannot purchase at Walmart.
Oh here is a old Coca Cola can sunk into the mud. I will pour out the leeches.
10:00 a.m.
Have not found a non-Walmart item since the Coca Cola can.
Oh here is a crumbled snack bag. I will smooth out its crumbles. So as to ascertain what manner of snack.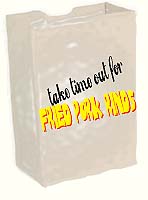 I do not believe Walmart sells Fried Pork Rinds. That is good.
Noon
Have acquired a small black comb, a car tire, a cracked Frisbee, plus a high powered rifle. Am doing pretty good!
Now we will most likely pause for a lovely picnic lunch. Am looking forward to this as am famished.
Huh.
It is awfully quiet. Can no longer hear Snooples and Chickenloaf singing THE HAPPY WANDERER.
Oh I bet everybody went over that hill.
1:10 p.m.
Rest of Hiking Party appears to have disappeared into smithereens.
2:15 p.m.
Wandering half crazed from hunger and thirst under indifferent and scorching sun.
2:45 p.m.
Have found a sodden pack of Camel Filterless plus a plastic turkey call.
However it does not matter as will soon be dead.
3:15 p.m.
Stumbling along cracking oak nuts for sustenance.
Am doomed.
4:10 p.m.
Red Squirrels hopping and swearing in the trees. Red Squirrels are making obscene gestures.
II shall perish amongst rude Red Squirrels.
8:45 p.m.
Now it is dusk. I suppose I will soon become eaten by bats.
Here is a charm bracelet. Plus the head of a Ken Doll. That is pretty good!
Wait this is Snooples charm bracelet. I recognize the little spatula.
9:20 p.m.
Have encountered a abandoned and rotting building enshrouded in nameless evil.
Oh it is the backside of the Camp Wannabee Clubhouse.
August 23
Have slept 14 hours after consuming large plate of hot dogs and beans. Followed by soaking scabbed paws in soda water.
Snooples has won a Nice Swiss Army Knife. On account of Snooples found
bear droppings
a beech nut
the wing of a luna moth
a luminous amethyst geode
a preserved robin's egg
a stone shaped like a heart
a eagle's stomach feather
some white birch barks
a small toad named William
Also a fragile and delicate fossil of a previously undiscovered flying reptile.
August 24, 2005
Dear Muffin:
Guess what. Chessie spent 12 hours locked in the Out House.
We got back from a All-Day Hunting and Gathering Adventure and we realized Chessie was nowheres. We looked all over the place and we hollered our heads off.
Chessie, she did not holler back.
Then Pia, she says I gotta piss like a racehorse.
Pia, she goes off to the Out House.
There is Chessie standing in the Out House like a large-eyed ghost. Holding a baby owl.
So we ask Chessie why did you not holler back when we were hollering our heads off. Chessie, she says
i did not wish to disturb the baby owl.
Chessie, she is a okay kid but she is a weirdo.
Yours Truly,
Gracie
August 25
We are standing around in our bathing suits. We are supposed to jump of the dock and swim around in a small circle. Then we get a badge.
MAY I BE EXCUSED. I ALREADY KNOW HOW TO SWIM AROUND IN A SMALL CIRCLE.
No one pays attention.
Snooples, she is standing at the edge of the dock in her red one-piece bathing suit with the ruffles on the seat. Snooples is pinching her nose with one paw. Snooples is preparing to jump off the dock.
DO NOT BE TERRIFIED OF THE DARK HORRORS LURKING BENEATH THE MURKY AND FREEZING WATERS SNOOPLES. IT IS ALWAYS DISQUIETING AT FIRST.
> splash <
Snooples is paddling happily around the pond.
August 27
Swimming lessons again today.
Pia and Chessie, they have earned their swimming badges. Pia and Chessie, they are lounging upon the lounge chairs with their ears bundled up in towels. They are sipping festive pastel drinks. Pia, she is applying coconut tanning oil all over her leg fur.
Me, I have not yet earned a swimming badge.
Anyways, it is Bens turn to jump off the dock. Ben, he is kneeling upon the dock. Ben is meditating and buzzing.
It has been 15 minutes. Ben is still meditating and buzzing. The rest of us are standing around.
Mr. Pittler is standing in front of Ben with his beefy arms folded across his beefy chest.
Ben, he is applying his ear plugs and goggles and nose clamps and rubber head. Ben, he is hopping around and stretching his muscles in various ways.
Ben, he is standing with his toes curled over the edge of the dock. Ben is rubbing his paws together.
This oughta be good.
Pia, she has strolled over to observe. Chessie, she is trailing behind dragging her towel along the grass.
Now Ben is once more bouncing around and stretching his muscles in various ways.
Pia has just booted Ben on the behind with the side of her foot. There goes Ben!
I CERTAINLY HOPE BEN DOES NOT SINK TO THE BOTTOM AND ENCOUNTER ANOTHER STUPID BOAT.
I realize I have just said this out loud.
Ben? Ben Carhartt? The Ben Carhartt??
The Persian cats are jumping. They are clapping their paws. One of the Persian cats is swooning. A small goat is blatting. A hedgehog is standing on his toes and chattering excitedly.
help
Ben, he appears to be drownding out in the middle of the pond.
8 p.m.
Around the Campfire
...So then I hear ghostly choral music off to the left and behind. I'm thinking to myself, 'this baby is the Edmund Fitzgerald...'
Ben, he is lounging on a comfy chaise lounge and is swaddled in a thick pink bathrobe and pink fuzzy slippers and he is wearing a large pink cowboy hat.
May I bring you another Pina Colada, Mr. Carhartt?
May I arrange your cushions, Mr. Carhartt?
A gaggle of Persians and Angoras and goats and hedgehogs surrounds Ben.
...So then I say to myself, I say, Ben! This day, the Endlessly Confused Course of History depends upon the actions of one small, well intentioned orange cat...
I think I will go to bed early and read my Stephen King novel.
9:15 p.m.
Uh oh. There is a lumpy object beneath my pillow. Likely it is a rattle snake which will behead me.
It is a Nice Swiss Army Knife. With a little piece of paper taped onto it.