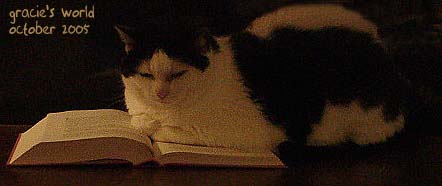 October 1
There is a punkin... There is another punkin...
Snooples and me: We are counting punkins.
We are counting punkins in Vladimir Polesaw's punkin field. Pretty soon we will sell all the punkins. That is the plan.
Then we will have a pig roast.
October 3
A pig roast. That will be pretty good.
Cannot stop thinking about that pig roast.
However first we must sell all the punkins.
October 5
Counting more punkins in Vladimir Polesaw's punkin field.
Am wearing a pair of Dads leather gloves secured to wrists with rubber bands. As could not find mittens this morning. These gloves, they cause a regular cat to appear as a splay footed monster.
However, they serve as a effective antipunkin defense. One cannot be too careful around punkins.
October 7
Snooples and me: We are rolling punkins out of the field. We are discussing that pig roast.
THAT PIG ROAST. IT WILL BE PRETTY FUN.
yeah it will be pretty fun.
YEAH.
yeah.
YEAH IT WILL BE PRETTY FUN.
yeah.
October 11
bonne littérature au sujet des chats! il n'y en a pas!
CHESSIE STOP HOLLERING IN YOUR SLEEP. IT IS SATURDAY. WE REQUIRE OUR REST.
vol dans la cathédrale! je sens l'odeur de mofette!
Good heavens it is already 8:30 a.m. Snooples bed, it is empty. Snooples is probably waiting at the end of the driveway for Vladimir Polesaw in his old pickup truck.
I must rise immediately and arm myself in punkin rolling clothes.
October 13
We are loading some small punkins onto the wagon. We are wearing our rubber boots as it is muddy.
Vladimir Polesaw's horse Bean Pintle. He is crunching a punkin to smithereens with his large teeth.
THAT HORSE IS EATING A PUNKIN. IT WILL DIE.
Vladimir Polesaw says no a punkin will not kill a horse.
Vladimir Polesaw, he says these small punkins, they are for tarts and whatnot. I did not know that punkins could be utilized in this manner.
Snooples is holding a small punkin between her mittens. Snooples is licking that punkin. Snooples is making a wrinkled face. Snooples is placing that punkin back onto the wagon.
October 14
Snooples and me, we are hosing off the punkins.
Snooples is wearing Charlies old rabbit fur hat with the ear flaps hanging down. Also Charlies old orange and brown plaid flannel shirt over top of her crab's wool sweater. That plaid shirt, it hangs down to Snooples muddy knees. The cuffs, they are rolled up approximately 20 times.
We are further discussing the matter of the pork roast.
what exactly is a pig roast?
IT IS A FESTIVE PORK CEREMONY.
oh.
Snooples is quietly considering this.
Snooples red mittens are safety-pinned to the cuffs of her crab's wool sweater. However those mittens, they are dangling.
SNOOPLES YOU MUST WEAR YOUR MITTENS AT ALL TIMES.
why?
MITTENS MUST BE WORN DURING THE HANDLING OF PUNKINS.
why?
PUNKINS ARE BASICALLY EVIL.
oh okay.
However Snooples does not put on her mittens.
Snooples is kneeling down in the mud. Snooples is examining a cabbage butterfly.
October 16
We are loading corns onto the wagon. Bean Pintle, he is clopping along and crunching corns.
There are a lot of corns in this field. We must load the corns and then tie them into bundles. The customers, they will buy these corns. I do not know why.
SNOOPLES WHAT DID I TELL YOU ABOUT WEARING YOUR MITTENS.
but these are corns
IT MAKES NO MATTER.
Snooples is kneeling in the dirt. Snooples has found a old Indian arrowhead.
what is this small but meritorious object?
IT IS JUST A OLD ARROWHEAD. THROW IT AWAY.
Snooples has tucked that old arrowhead into the pocket of her corduroys.
October 17
Snooples and me, we are buffing the punkins. We are making a nice display with twigs.
I am making a sign: BUY THESE HERE PUNKINS.
Snooples is sucking her mitten. Snooples is frowning at the sign.
i do not think that is how to spell pumpkins.
SNOOPLES YOU ARE ONLY A YOUNG SMALL CAT YOU DO NOT KNOW.
Snooples continues to suck her mitten and frown at the sign.
ANYWAYS WE HAVE GOT TO POLISH THESE CABBAGES.
Snooples sighs. Snooples picks up a purple cabbage and a jar of Cabbage Polish.
October 18

Even though punkins have disgusting innards, we have sold many punkins today.
Altogether we have sold 139 punkins. Also some potted mums. Also some froots.
Vladimir Polesaw, he is making us some lamb sandwitches.
October 19
Hubbard squash. They are the gosh darndest things.
What does anybody do with a Hubbard squash I do not know.
Snooples, she is pretty good at selling the Hubbard squashes. Snooples, she ties some festive ribbons about the Hubbard squashes necks. Snooples, she pats those Hubbard squashes with her mittened paw.
this here is a nice hubbard squash for the taking!
That is what Snooples says.
The customers, they say Aw look at the cute little kitty with the fuzzy pink snow hat. They say Aw how cute that little kitty is patting the Hubbard squash.
Then they buy all the Hubbard squashes.
Sometimes the customers, they ask Is the cute little kitty with the fuzzy pink snow hat for sale.
Vladimir Polesaw, he says no.
October 20
Trudging through a field of tall corns in search of butternut squash.
There is one. Or possibly it is a guinea pig. I shall kick it to make sure.
Good gracious what is that horrific skeletal figure clad in a ragged old tuxedo and wearing over its head a burlap bag advertising Plovis's Equine Growth Formula.
That horrific skeletal figure, it has blank and staring eyes. It's is permanently stitched shut. Plus it has zero ears.
That horrific skeletal figure, it has limp and dangling wrists. It is wearing a pair of Vladimir Polesaw's old work gloves. Which no doubt it has stolen. Crows are hopping all over it and making gargling noises.
I shall jab it with this long stick. So that it will go away and not murder Snooples.
Good heavens it just toppled over. Its head has rolled off.
Bean Pintle is eating its head!
I shall now faint.
October 26, 2005
Muffin,
Guess what Bucky Lawless did with a bag full of ball bearings. You will never guess.
I have to go. Chessie has got another kleenex box stuck over her head.
Yours Truly,
G.D.L.
October 30
tous les Vikings! sont morts! personne ne m'a informé!
CHESSIE DESIST WITH SENSELESS SHOUTING. IT IS 2:30 A.M.
Also there is a huge misshapen punkin squatting in the bedroom. I shall climb down off the top bunk and investigate.
That punkin it is larger than I thought. Pia is yelling from inside that punkin. Get me out of this goddamned punkin. That is what Pia is yelling.
it is not a pumpkin
Snooples has appeared at my side. But it is not Snooples. Well, it is Snooples. But with huge and pale bulging eyes.
I AM SURE IT IS A PUNKIN. IT IS CLAMMY.
no it is a septic tank
Get me out of this fucking septic tank.
Oh I get it. We are in France.
The septic tank, it just exploded.
Chickenloaf's Big Ben alarm clock. It is rattling and rattling. I must rise and get dressed in warm clothing as we will be collecting firewood for the pork roast today.
October 31
We are standing in our coats and boots around a roaring fire and we are singing turkey hunting songs. Vladimir Polesaw, he and Ben, they are playing their accordions. Snooples and Chickenloaf, they are carrying around trays of hot buttered sheeps milk.
The little kids, they are roasting bits of pork on long sticks. The little kids, they have pink noses and sooty mittens.
Now we are setting around at the picnic dinner tables. We are enjoying large plates of roast pork and delicious egg noodles. Also some pie. Also some cheese.
Soon we will crown the Pork Queen.
This pig roast. It is pretty fun.