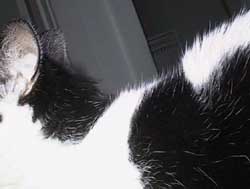 December 1999



Wednesday, December 1
I am so fat! Over Thanksgiving Dad cooked a huge turkey and I had so much turkey and so much stuffing and so much potatoes and so much gravy but none of that creepy red stuff! Also Nini cooked a whole deer in her deer fryer and Ben made his Native Land Candied Sweet Potatoes With Escargot Balls! I gained a whole 3/4 ounce! Pia says I look like a Bosc pear!
Thursday, December 2
Chickenloaf was really really bad last night! Dad won't let her have the money to pay her Nubian Underground dues, and she's really really mad! When Mom got out her insulin needle, Chickenloaf ran under the love seat then she ran under Dad's kangaroo-skin chair then she ran behind the bookshelf then she ran under the desk in Mom's study then she ran under the dining room table then she ran behind the stereo speakers then she ran under one of the kitchen chairs then she ran up the hall and under the bed then she ran under the dresser then she ran into the bathroom behind the toilet! I was coming out of the bathroom and she ran right over top of me! Mom said Chickenloafyou'rereallypissingmeoff and then she shut the bathroom door and Mom and Chickenloaf were alone in there and then we heard Chickenloaf yelling for help!
Friday, December 3
I am so fat! I weighed myself today and I weigh 14 3/4 pounds! I may never wear a size -3 again! This is so gross! I need to go on a diet right away! Today Weakie and Nini were snacking on leftover fried deer legs and I said NO WAY! I had some of Mom's carrot sticks!
Saturday, December 4
Dad is right! Mom's carrot sticks really do taste like wet sawdust! No wonder Dad keeps trying to eat them and then he spits them out like Weakie throwing up a hairball! Ben says try dipping them in mayonnaise. So I am going to try dipping them in mayonnaise.

Sunday, December 5
I got this e-mail today!
Subject: HELP! HELP!
GRACIE I HOPE YOU CAN HELP I AM STARVING I NEVER GET ANY FOOD SOMETIMES YOU CAN NOW!NOW!NOW!NOW! POKE MY RIBS IF YOU TRY REAL HARD AND IM HUNGRY NOW!NOW!NOW! NEED MONEY TO BUY FOOD FOR ME AND GIZZY SO I CAN EAT GIZZYS FOOD TOO NOW!NOW!NOW! MOM DOESNT FEED ME I SWEAR AND DAD TEASES ME ABOUT HOW IM SPOILED IM NOW!NOW!NOW!NOW! NOT SPOILED I JUST NEED FOOD. THEY EVEN LOCKED ME IN THE BASEMENT THIS MORNING WHEN I JUST ASKED THEM FOR A LITTLE FOOD AT 5:00 THIS MORNING FOR AN HOUR I STOMPED ON THEM AND SCREAMED TO TELL THEM IM STARVING AND THEY WOULDNT FEED ME AND THEY LOCKED ME AWAY ITS NOT FAIR AND IM STARVING! I HAVE TO EAT SPIDERWEBS IN THE BASEMENT I NEED FOOD NOW!NOW!NOW!NOW! BUCKLEY PS I WOULD EAT YOUR FOOD IF I COULD BECAUSE IM SO HUNGRY PLEASE HELP ME IM ON A CAT HEATING PAD WITH MY OWN FLEECE RIGHT NOW BUT ITS LIKE NOT FOOD AND IM SO HUNGRY I ONLY HAD TWO TINY BREAKFASTS THIS MORNING IM DYING! I HAVE BIG GREEN EYES I HELP MY MOM WHEN SHE WORKS AT THE COMPUTER I CAN OPEN DRAWERS TO GET FOOD SO THEY MOVED IT AND I EAT SPIDERWEBS TO STAY ALIVE STARVING CATS NEED HELP WE DIDNT HAVE THANKSGIVING AT OUR HOUSE WE HAD A CAT SITTER WHO GAVE LOTS OF POISON FOOD AND I THREW UP ALL THE TIME THEY DONT LET ME EAT FROM THE TABLE THEY PUSH ME AWAY AND I STARVE AND EAT SPIDERWEBS HELP PLEASE HELP I NEED FOOD BAD HELP HELP HELP HELP HELP!
I did not know what to do so I showed it to Nini and she read it very carefully and then she got out her psychology books and she read and read and finally she said that this e-mail is clearly a cry for help!
Nini says LET ME HANDLE THIS.
Monday, December 6
Nini wrote a e-mail to that poor cat! Here is what she wrote to that poor cat!
Dear Heating Pad:
Our Charlie has a similar situation in that he is banished to the basement on the basis of unwarranted aggressive behavior, i.e., he bites our necks.
Please be advised that the basements of older homes invariably offer a lush variety of comestibles to appease even the most discerning palate of Felinus cattus. In addition to the resident wildlife (pillbugs and insects of varied palatability and spiciness; spiders with bulbous, tomentose abdomens; the occasional reptile; and at least three species of rodentia), a pantry is often at hand, stocked with delicacies ranging from fruit rollups to venison jerky.
Ergo, and in short, be glad you LIVE IN A HOUSE and not in some abject feral colony. I urge you to, in the mawkish human vernacular, make lemonade, as it were.
Sincerely,
Nini, Esq.
Tuesday, December 7
Raw carrots dipped in mayonnaise are pretty good! I ate half of Mom's bag of raw carrots this morning and half a jar of mayonnaise. I feel very full but I am GUILT FREE because alls I ate was carrot sticks dipped in mayonnaise! This diet stuff is easier than I thought! I do not know what Charlie's problem is!

Wednesday, December 8
This morning Mom and Dad were singing this song!
| | |
| --- | --- |
| Mom: | I have a little hairball! |
| | Dad: Cats! |
| Mom: | I made it out of hair! |
| | Dad: Play stupid games! |
| Mom: | And when it's large and ready, |
| | Dad: Cats! |
| Mom: | I'll blow it on the chair! |
| | Dad: That's why they're lame! |
| Mom: | Hairball! Hairball! Hairball! |
| | Dad: Cats! |
| Mom: | I made you out of hair! |
| | Dad: Play stupid games! |
| Mom: | And when you're large and ready, |
| | Dad: Cats! |
| Mom: | I'll blow you on the chair! |
| | Dad: That's why they're lame! |
Ben says this kind of song is called a Ground Beef. Personally I think it is so gross and tacky!
Thursday, December 9
Last night Mom brought home something called egg nob and she and Dad had egg nob! We weren't allowed even though it looked so good! It looked like nice rich milk and it smelled like yummy candy bars! Mom said no way we couldn't drink any 'cause it had something in it called DUM. But when they weren't looking Pia lapped up a whole inch of egg nob out of Dad's glass! Then Pia got all sentimental! She said gosh Ben is such a good kid! Then she started singing Frosty the Snowman all slurry and funny and slapping her knees and saying that's a really great song and then she threw her paws around Weakie's neck and got real weepy! She said she regrets not treating Ben better! She says she will mend her ways!
Then she fell right over and slept all night long!
Then the morning she was so grumpy! She kept telling us not to clump around the house on our feet 'cause it was so noisy!
Friday, December 10
Ben is so excited about the new pillow shams!
Also, it's gonna be Christmas soon! We're all so excited!
Saturday, December 11
Our jazz combo is doing really really great! We have one set nailed down and Ben plays MacArthur Park on his trumpet and it is so awesome! When he hits that really really really high note at the very end all these dogs show up in the yard!
Next we're working up a Klesmer set!
Sunday, December 12
I almost forgot to say that we have also started a marching band! Chickenloaf was very grumpy at first! That's on account of she plays piano and she says how the heck am I gonna play piano in a marching band and I'm not going to play that stupid glock ~ glock~ that stupid tinkly thing they always make pianists play at football games!
But then we solved the problem! Chickenloaf is going to play the Sousaphone!
Monday, December 13
Mom is really pissed 'cause Ben won't let her play in our jazz combo. Ben says "I'm lettin' Dad play his congo drums because that adds color but not Mom." He says Mom has no chops! So then Mom says, she says fine I'm taking back my jazz amp! Also no more food for you! So then Ben says fine I'll eat sow bugs that's what I lived on in my Native Land anyways and then Mom says great take a picnic basket and have a field day. Then she kicked over Chickenloaf's Sousaphone and stomped out of rehearsal and the Sousaphone slid across the floor and nearly killed four of us!
Tuesday, December 14
Dad wants to stuff Pia inside his big congo drum whenever she's not singing 'cause he says that gives his congo drum excellent tone! Pia hates this 'cause it wrinkles her the long red gown she wears to gigs! But Dad says either that or we make banjo strings out of you so Pia has to go along with this!
This is a warning to all you cats starting jazz combos! Don't let humans in your band! They are all prima donnas!
Wednesday, December 15
Wow the Klesmer set is going really really great! Ben is a genius! He's giving all the Klesmer songs a cha cha rythm and Dad is teaching Chickenloaf how to play the claves! Mom just makes rude noises when we are practicing on account of she is still so mad that Ben won't let her play 2nd trumpet! She says Miles Davis would be proud of his behavior! But I don't understand that this has nothing to do with baseball! She says Ben is a little PECKERHEAD but we checked and he doesn't have any holes filled with grubs and beetles in his head so we think she just made that up.
Nobody told me being in a band was so political!
Thursday, December 16
Merry Christmas everybody! This is so exciting! Today in school we started to rehearse for our Christmas play! We are going to do the Negativity! Ben says that's a special play all about his Native Land! Ben is so lucky to have such a rich culture! Not like dumb humans!
Friday, December 17
Yesterday we got our costumes for the Christmas play and we started to rehearse! Chickenloaf gets to be Madonna! Pia says that's so cool some cats get all the luck. She says if Chickenloaf gets to play Madonna she wants to play Ani Defranco but Weakie says sorry Pia you have to be one of the three kings! Then Chickenloaf got her Madonna costume and Pia said hey where's all the cool lingerie that's just a dumb bathrobe!
Ben gets the best part of all! He gets to play THE PRINCE OF PEAS.
Saturday, December 18
We had our first gig last night! It was only happy hour at the local VFW but it was so great! There was just one old man there who kept kept singing some song about Private Willie McBride into his glass and I asked Pia what he was talking about and she said he's making love to his tonic and gin! That sounded kinda gross so I walked a wide circle around him every time I hadta go to the bathroom!
Sunday, December 19
Today I got this letter from somebody named Vidalia!

Dear Gracie,
I don't know if you watch "The Real World" on MTV, but these fascinating young people on that show went on a great diet: you make up this drink out of basically everything you have liquid in the house, and add chili powder and maple syrup to make you strong like a tree (I'm not sure what chili powder has to do with trees). Then you drink a lot of that and don't eat any food. The people on the show lost a lot of weight on this maple syrup drink diet. They threw up a lot, too, but from reading your journals I guess you do a lot of that, so maybe you won't mind.
Sincerely, A fellow dieter
Nini insists on answering all my mail on account of she says it's too dangerous for me to answer e-mails! There are all kinds of freaks out there! So Nini answered this e-mail!
Dear Misguided and Suggestible Dieter:
I feel that I must warn you that many, many fad diets simply are not effective on a long-term basis and furthermore can be extremely dangerous! I fear that the highly questionable maple syrup drink diet falls into this category.
Strong like a tree indeed!
If you are serious about dieting, I recommend my green plantain/deep-fried venison liver diet. You will find this remarkable diet plan in the "Eating For Nice, Shiny Fur" chapter of my award-winning cookbook What's That Smell in Nini's Kitchen?.
Best of luck in achieving your goals for healthy eating and glossy coat,
Nini, Esq.
Monday, December 20
Ben is so excited about the new pillow shams that he can't stop talking about the new pillow shams! He says he hasn't seen good pillow shams since he left his Native Land!
Tuesday, December 21
Ben is locking himself up in his study and he won't let anybody in! He says he doesn't want to be disturbed! He says he is writing a special song about the new pillow shams!
Wednesday, December 22
Today we had dress rehearsal for our Christmas play! I am so excited! Here we are in our costumes! Pia looked right at the flash bulb even though Mr. Putz the school photographer told her not to so she has Eyeballs From Hell!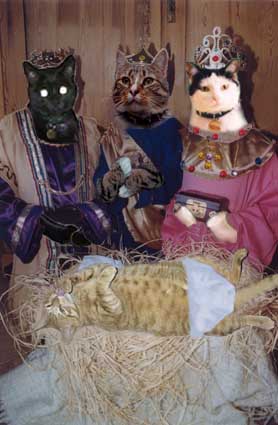 Thursday, December 23
8 a.m.
I am so nervous because tonight is our Christmas play! I have practiced my lines over and over again but I am so nervous! The play is only 9 hours away and I am so nervous! Mom says eat some breakfast but I can't eat any breakfast! Weakie, she's eating my breakfast!
1 p.m.
The Christmas play is only five hours away and I stepped on the hem of my wiseman robe and the hem is coming apart on my wiseman robe! What am I gonna do!
Whew! Pia saved me! She got out Mom's stapler and stapled the bottom of my wiseman robe! Gosh I am so nervous!
4 p.m.
Only an hour before the Christmas play! I think I might pee myself! Or maybe throw up! Nini says nonsense all I have to do is METHOD ACT. BE THE PART. JUST THINK OF CHARLETON HESTON.
4:30 p.m.
Yikes! The play is only a half hour away and I think I am definitely going to pee myself! Ben says relax everything will be copasetic but he should talk alls he has to do is lay around in a pile of hay and look like a savior!
Chickenloaf says get a grip she's the one with the hard part, but no way! Alls she has to do is stand there and look like a virgin! Which she is!!!
4:45 p.m.
The play is only fifteen minutes away and I am definitely gonna pee myself!
I bet Charleton Heston peed himself a lot!
9 p.m.
Hooray! The play went really really really really really really really really really really well! Ben looked just like THE PRINCE OF PEAS, and Nini sounded so majestic when she was hanging from the ropes and swinging back and forth and her wings were flapping and she said behold I bring you glad furballs!
Pia was the only one that messed up her lines! She was supposed to say Here's some Frankinsense, but she said Here's some fart incense! Then everybody on stage burst out laughing and everybody in the audience burst out laughing and Ben whispered to himself that Pia was a twit and Pia smacked him with the Frankinsense thing but anyways it went really really well! They threw us bouquets of oats and catnip!

Friday, December 24
Tomorrow is Christmas Day and I am so excited! We all asked for sleds! Dad said why we haven't had any significant snow in six years but I am so excited that we're all gonna get sleds! Pia says why mess around with sleds let's get snowmobiles but I told her no way that's bad for the health!
Anyways, tomorrow is Christmas and then we get to come downstairs in our pajamas and tear open our presents and there will be all the sleds!
Saturday, December 25
Hooray! We all got our sleds and Pia got a toboggan and it's this curly thing and there was a little bit of snow so we took our sleds up to the top of the hill and sledded right through Mom and Dad's flower gardens and it was so cool! Pia wrecked her toboggan and cut her lip but she says it looks cool even better than getting her lip pierced!
Also we got lots of great toys! Ben got a teddy bear schoolroom set and I got a dollhouse with real lights that light up and everything a real litterbox in the pantry!
Merry Christmas everybody! I gotta go now 'cause Nini wants to go ice skating because she says it is so romantic! I don't have ice skates but Nini says I can slide around on my rubber boots!
Thursday, December 30
Oh my God I got on the scales and I gained FIVE POUNDS!!! I can't wear my go-go belt anymore! And my red jumper makes me look like a Virginia ham! What am I gonna do!? I am so fat and so gross and so FAT! Somebody help!!!!
Friday, December 31
God I'll be so glad when the holidays are over! Mom has been torturing us! She plays Andrea Bochelli all day long some days! I don't even know who that guy is! Chickenloaf says he used to be one of the Mousketeers!